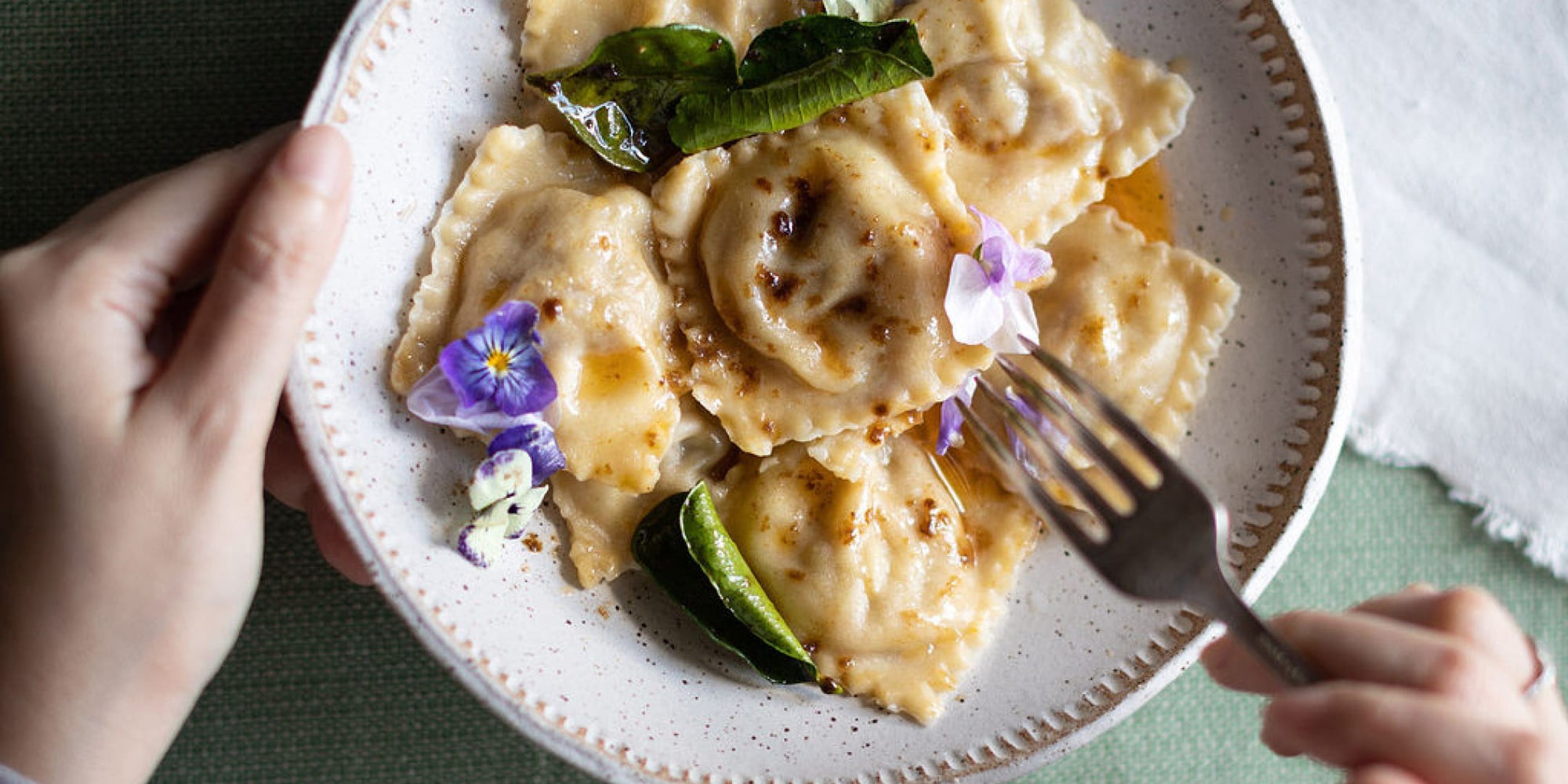 Shrimp Laksa Ravioli
We're massive fans of culinary contrasts, and this Shrimp Laksa Ravioli is a smashing example of it. We merge Singaporean Laksa with the Italian Ravioli in a culture-crossing, high cuisine example that highlights Southeast Asian flavors. Dainty raviolis – stuffed taut and almost translucent with juicy shrimp – are infused with Laksa spices, gently poached, then lightly coated in a tangy, seafood-infused sauce.
- Recipe by Deborah Lee
Singaporean Laksa
INGREDIENTS
For the ravioli dough:
1 3/4 cups (200g) 00 flour, sifted
2 large eggs, room temperature
1 egg white, to seal the raviolis
For the ravioli filling:
1/2 Homiah Singaporean Laksa Kit (there are 2 kits per pouch)
6 oz. (170g) shrimp, shelled, deveined, and cut into 1/2 inch pieces (reserve shrimp heads)
1 tbsp (15ml) olive oil
Zest of 1 lemon, grated
Freshly ground black pepper
For the sauce:
2 tbsp (30ml) vegetable oil, or any neutral oil
1/2 clove garlic, crushed
1/4 cup (60ml) white wine
2 tbsp (30g) unsalted butter
Juice of 1/2 lemon
Optional: 2 makrut lime leaves
Kosher salt
METHOD
To make the ravioli dough, sift flour on a table into a mound, and make a well in the middle like a little volcano. Crack the eggs one by one into the center of the flour mound, and gently whisk the eggs with a fork, gradually incorporating the flour into the eggs as you mix it, a little at a time until a rough dough forms. Then, using your hands, bring the remaining flour together into the dough and knead it for 10 minutes until smooth and elastic. If the dough is too sticky, top up with some flour. Conversely, if the dough is dry to touch, add a few drops of water. When done, shape the dough into a ball, cover with a kitchen towel, and let it rest for 20 minutes.
Set the pasta machine on its widest setting. Cut your ball of dough into 4 equal pieces. Take one piece and cover the rest so they don't dry out. Press the dough flat with your hands, sprinkle some flour on it, then roll it through the pasta machine. When the dough is out, fold it in half, flour each side, then run it through the machine again. Fold it in half one last time and roll through. Next, turn the pasta machine down to a thinner setting and roll the dough through. Repeat this rolling process 4-5 more times, progressive turning the pasta machine to a thinner setting until it reaches the thinnest setting (about 2-3mm thick). Let the sheets rest while you repeat the process for the remaining dough.
For the filling, pour the Homiah Singaporean Laksa Kit into a small saucepan, and sauté for about 5 minutes, then remove from the heat and cool to room temperature. Transfer the sauce into a bowl, and add to it the chopped shrimp, olive oil, lemon zest, and black pepper. Mix well.
Divide the rolled out pasta sheets in half. Place equal amounts of filling across the pasta sheet, each about 4-5cm apart. Brush egg white around the filling, then cover with another sheet of pasta. Use the smooth side of a 3-4cm ravioli ring stencil to press and seal, then cut the ravioli using a larger ring cutter about 5cm. Cover the raviolis and leave to dry for one hour on a wire rack.
Meanwhile, sauté the shrimp heads with the oil, 1/2 clove of crushed garlic and 1 tbsp Homiah Singaporean Laksa paste for 5 minutes. Deglaze with white wine and simmer for 15 minutes, until the liquid has reduced into a thick sauce.
Pass the sauce through a strainer, discarding the solids, then pour the sauce back in the pan, and add to it butter and makrut lime leaves. Bring to a gentle simmer, then add the lemon juice and season with salt to taste.
Cook raviolis for 3-4 minutes in boiling hot water. Transfer cooked ravioli to a platter and drizzle the sauce over.
SHOP INGREDIENTS