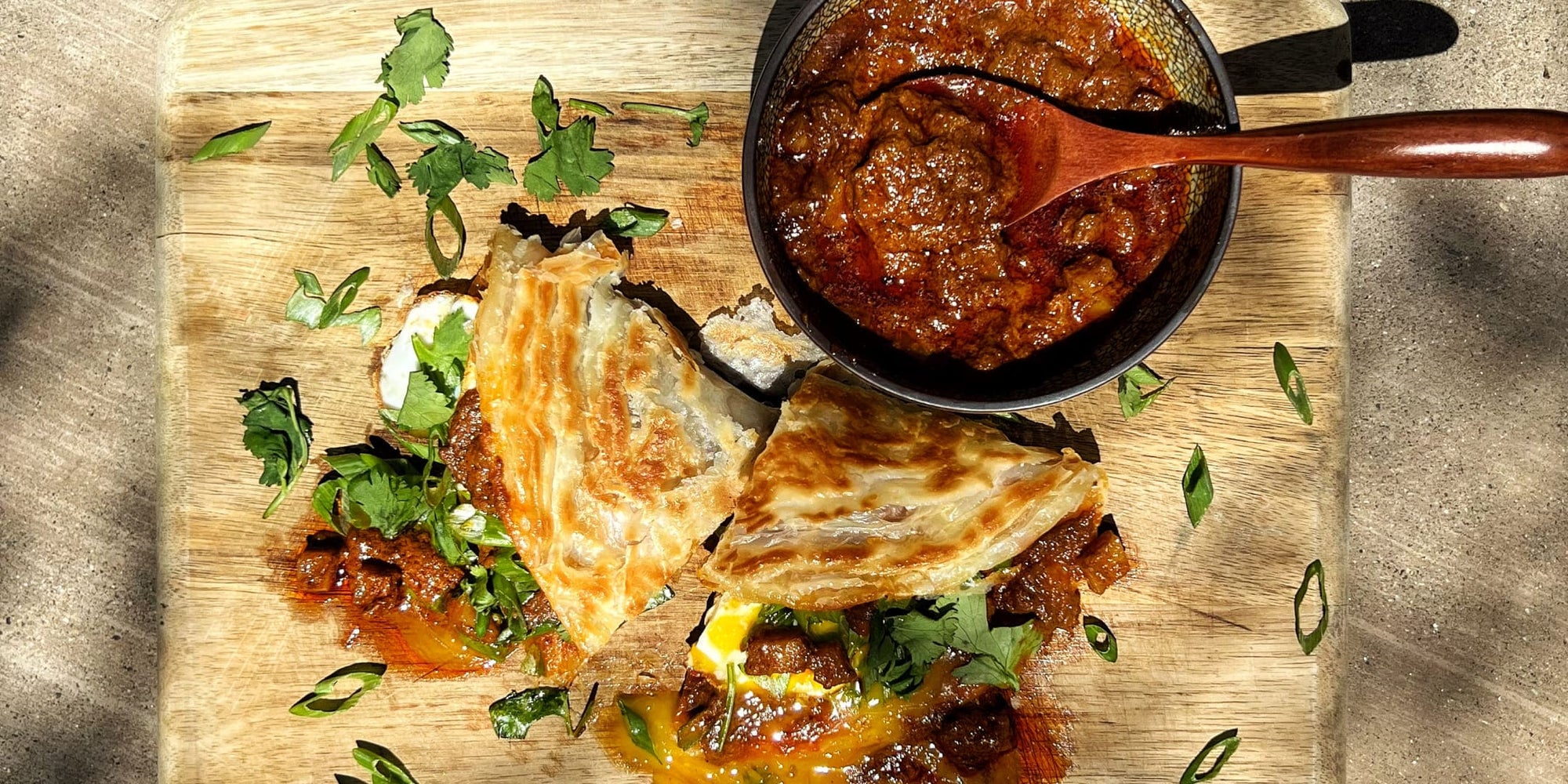 Paratha with Curried Potatoes & Fried Egg
Malaysians grow up eating flatbreads known as paratha or, more locally, "roti canai" at their local neighborhood eateries. It's a staple in the country, an empty canvas of a dish that can be dipped or slathered with a multitude of rich curries and dals.
These rotis come in an endless variety of shapes and flavors — just plain with a little dal on the side; stuffed with eggs, onions and masala spice; or layered with sweet ingredients like bananas, butter and sugar, or messy spoonfuls of malted Milo powder.
This version here is a tribute to street food-style parathas, made with a taco-like convenience in mind—instead of tearing and dipping, dollops of curry, egg, and herbs are loaded onto the paratha making for an explosion of flavor and texture.

- Recipe by Jen Toy
Paratha with Curried Potatoes & Fried Egg
INGREDIENTS
1 Homiah Malaysian Red Curry Kit (there are 2 kits per pouch)
3/4 cup (180ml) coconut milk
1/2 (120g) medium Russet potato, cut into small cubes
3 tbsp (45ml) neutral oil, divided
4 frozen parathas
4 eggs
1 stalk scallions, chopped (optional)
1 bunch cilantro, chopped (optional)
METHOD
Pour the Homiah Malaysian Red Curry kit into a medium pot or saucepan, and place over medium heat to saute for 3-5 minutes. Add in the coconut milk, give it a stir and bring it to a simmer, and add in the potatoes. Cook the potatoes for 10-15 minutes, until softened, then take the pan off the heat and cover it with a lid to keep warm.
While the potatoes are cooking, pour a tablespoon of oil in a medium skillet or pan, and heat over medium-low heat. Place a frozen paratha onto the pan. Pan fry for 2-3 minutes, until both sides of the paratha are golden brown. Transfer the paratha onto a plate, and repeat the cooking process for the remaining parathas, adding more oil as necessary.
With the remaining oil, fry 4 sunny-side up eggs.
To assemble, spoon 2-3 scoops of curry sauce onto one half of each paratha, then add a fried egg and the chopped scallions and cilantro onto the same half. Finally, fold the paratha in half, and eat!
SHOP INGREDIENTS