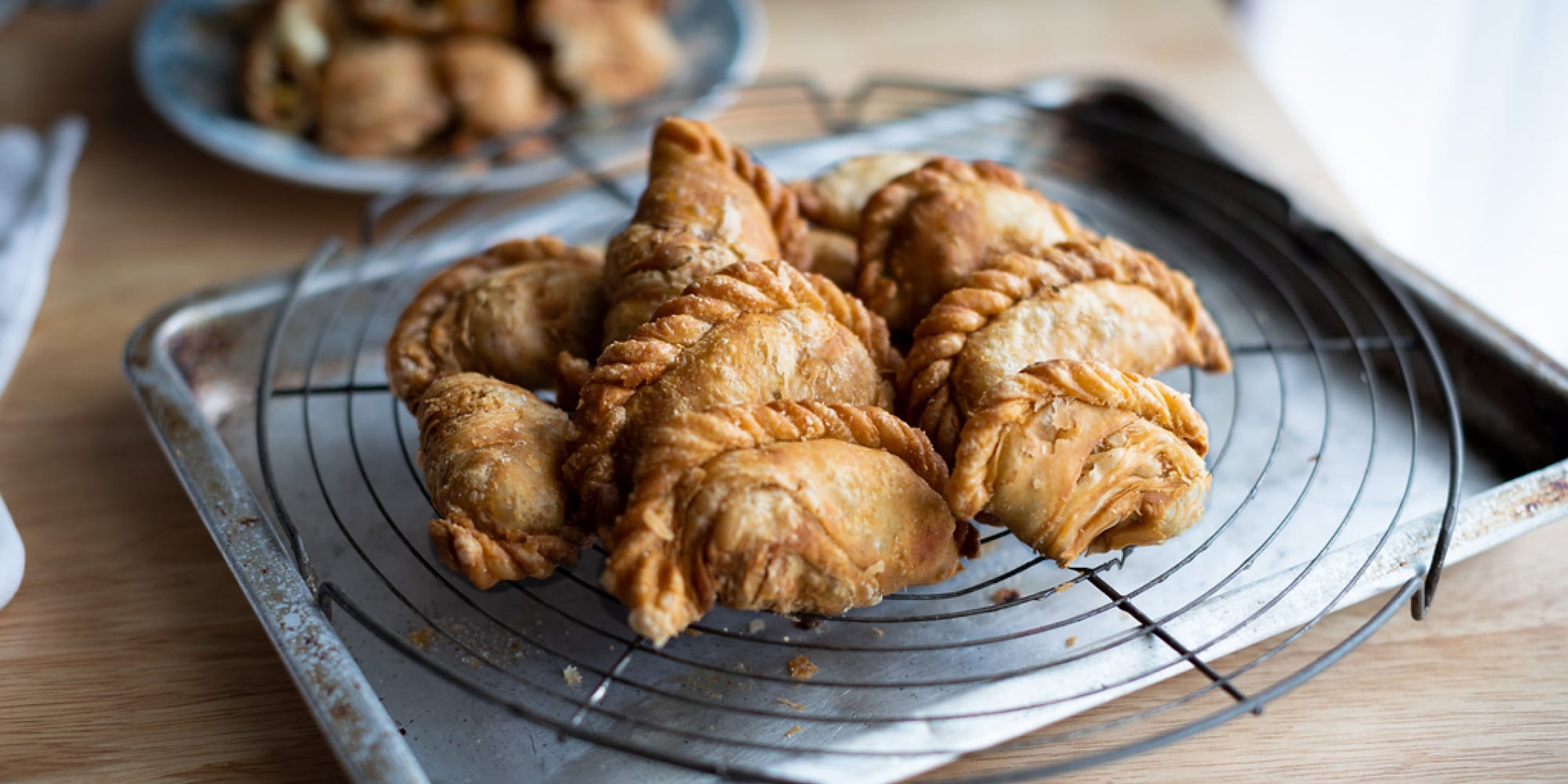 Spiral Curry Puffs
Curry has many companions – eaten with rice, slopped onto crispy katsu cutlets, or used to soak up rotis. One of the most delectable ways of having curry though is wrapped up in flaky pastry. The famous Malaysian curry puff consists of flavorful vegetable or chicken curry encased in a puff pastry like dough and shaped into half-moons. The curry puff is then deep fried until it's crackly and crisp, creating shards of crispiness and crunch with each curried bite.
Spiral curry puffs are what you'll typically find at the most popular street-side curry puff vendors in Malaysia, with the pastry made extra crispy by layering two doughs—an oil-based dough and a water-based dough—together before wrapping the curry within. The result is an incessantly crunchy outer pastry shell that crumbles away, revealing a steamy soft, warm and comforting curry within.
- Recipe by Deborah Lee
Malaysian Spiral Curry Puffs
SERVES TIME
8 (Makes 32 pieces)
2 hours 30 minutes
INGREDIENTS
For the filling:
2 Homiah Indonesian Rendang Kits (there are 2 kits in 1 pouch)
1 lb. (450g) ground beef (preferably chuck and 20% fat)
1/2 lb (250g) cubed potatoes 
1 large yellow onion, peeled and chopped
1/2 a carrot, peeled and chopped
1/2 cup (60g) peas, drained
1 cup (240ml) water or beef stock
1 cup (240ml) coconut milk
2 tbsps (35g) tomato paste
Optional: 1-2 makrut lime leaves, spines removed and roughly torn
1 tsp (5g) sugar
Kosher salt, to taste
For water dough:
2 1/2 cups (300g) all-purpose flour
1/4 cup (60ml) vegetable oil
1 tbsp (15g) unsalted butter, softened at room temperature and cut into cubes, can be substituted with vegan butter
1/2 tsp (2g) fine salt
1/2 cup (120ml) ice cold water
For oil dough:
1 cup (~150g) rice flour
1/2 cup (120g) unsalted butter, softened at room temperature and cut into cubes, can be substituted with vegan butter
METHOD
To make the filling, start by sauteing the Homiah Malaysian Red Curry Kit over medium heat for approximately 5 minutes in a wok or saucepan. Then add in the cubed potatoes, carrots, peas, onion, and liquid, and cook for 15 minutes until the vegetables are tender. Season with the sugar, salt, and black pepper. Set aside to cool.
To make the water dough, start by heating the oil and butter in a small saucepan until it starts to sizzle then turn the heat off. Sift the flour into a separate bowl, then slowly incorporate melted oil and butter. Add salt and stir well with a heat-resistant spoon or spatula. Trickle the ice cold water into the bowl, then mix together until the ingredients come together into one dough.
Turn the dough out onto a well-floured surface and knead it for 2-3 minutes, until smooth. Cover the dough with a kitchen towel or plastic wrap, and let it rest for 40 minutes.
After resting, divide the dough into 8 equal portions (roughly 2.2 ounces (60g) each) and shape each portion into a ball. Cover them with a kitchen towel while you prepare the oil dough.
For the oil dough, combine the rice flour and softened butter in a bowl, and knead them together for 2-3 minutes to form a pliable dough. If the dough is too crumbly and hard, add more butter to it, one teaspoon at a time, until the dough is soft and malleable. Then divide the dough into 8 equal portions (roughly 1.6 oz each) and roll each portion into a ball.
When both sets of dough balls are made, take one ball of water dough and flatten it into a disc roughly 5 inches wide using your palm. Place one ball of oil dough on top and wrap the water dough around it. Roll it between the palms of your hands to form a large ball. Repeat with the remaining dough balls. Cover and refrigerate for 10 minutes.
Dust your work surface with flour. Take one large ball of dough and roll it out with a rolling pin to a disc roughly 4 inches in diameter. Then roll it up like a Swiss roll. Rotate the rolled dough 90 degrees, then roll it out again with a rolling pin into a long rectangle (roughly 3x8 inches (7.5x20cm), then Swiss-roll it up again into a log. Cover and rest for 15 minutes. Repeat with the other dough balls.
Cut each dough log into 4 equal portions. Then, working with one portion at a time, roll it out into a circle 5-6 inches (12-15cm) in diameter. Place a spoonful of vegetable filling in the middle, add a piece of hard-boiled egg, then fold the dough over the filling to form a half moon. Seal the edges by folding and pinching the seams using your thumb and index finger, making sure not to press too hard or the filling will leak out. Repeat for the remaining dough and filling.
When done, pour oil into a deep pot until it's at least 3 inches deep, and heat to 350°F (177°C). Deep-fry the curry puffs in small batches, 4-6 minutes each, or until golden brown and crispy.
Alternatively, you could air fry the curry puffs at 375°F (191°C) for 10 minutes, or brush them with egg wash and bake in the oven at 375°F (191°C) for 25 - 30 minutes.
Serve and eat while still warm!
SHOP INGREDIENTS