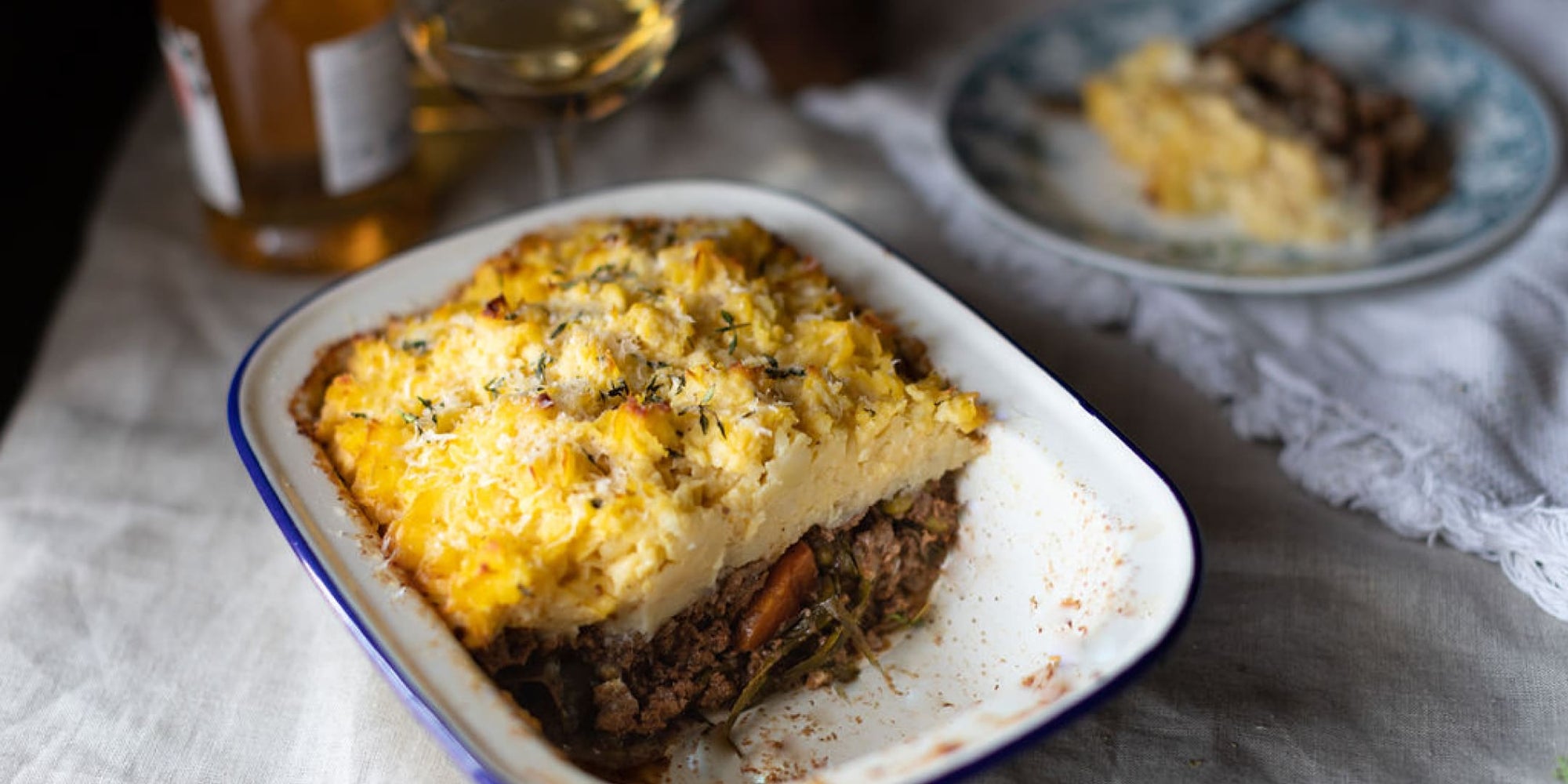 Curried Shepherd's Pie
Here's a quintessential winter comfort food but with a special twist: curried shepherd's pie. Inspired by classic British classic, this takes the comforting combination of meat and mashed potatoes, and brings in Southeast Asian flavor for some extra oomph.

For this shepherd's pie, we stick to the usual ingredients of ground beef sauteéd with onions, carrots, and peas, but modernize this recipe with a non-traditional, bold curry paste, in this case Homiah's rendang or red curry. Not sure whether to go with rendang or red curry? Choose rendang if you prefer a stronger, bolder flavor and red curry for a lighter, brighter version. While the recipe calls for 200g of paste, you can also choose to reduce the amount of paste to 100g based on your preferences. 
We recommend making this curried shepherd's pie over the weekend so you'll have something hearty to last the week. The flavor of this dish will develop and deepen with the days and will be sure to strike nostalgia whatever the occasion, whether you're serving a holiday dinner party or sneaking a cold slice from the fridge for a midnight snack. 
- Recipe by Deborah Lee
Curried Shepherd's Pie
INGREDIENTS
For the curried beef layer:
200g Homiah Indonesian Rendang or Red Curry Paste (equivalent to 2 inner kits or 1 outer pouch)
1 lb. (450g) ground beef (preferably chuck and 20% fat)
1 large yellow onion, peeled and chopped
1/2 a carrot, peeled and chopped
1/2 cup (60g) peas, drained
1 cup (240ml) water or beef stock
1 cup (240ml) coconut milk
2 tbsps (35g) tomato paste
Optional: 1-2 makrut lime leaves, spines removed and roughly torn
1 tsp (5g) sugar
Kosher salt, to taste
For the mashed potato layer:
1 lb. (450g) Russet potatoes, peeled
1/4 cup (60g) salted butter, plus more for brushing
2 tbsp (30ml) whole milk
Freshly ground black pepper
2 large egg yolks
3 tbsp melted butter
METHOD
In a pot or large saucepan, sauté the Homiah Rendang or Red Curry paste for 2-3 minutes over medium heat. Add the ground beef, and sauté for 3-5 minutes until cooked through. Then, add in the onions, carrots, and peas, and sauté for a further 5 minutes until the onions have softened.
Next, add the water or beef stock, coconut milk, and tomato paste, and simmer for 15 minutes. Add the makrut lime leaves if using. Stir well, then add sugar and a generous pinch of salt. Leave to cool.
Now, make the mashed potatoes for the Shepherd's Pie. Simmer potatoes for 20 minutes until fork tender. Then, drain out the water from the pot, and add butter, milk, and pepper. Mash together well. Add salt to taste, then incorporate egg yolks into the mash.
Preheat your oven to 400°F (204°C). To assemble, pour the meat mixture into a 8x6-inch casserole or pie dish, then spread the mashed potatoes on top and brush with melted butter.
Bake the pie uncovered for 25 minutes, until the mashed potatoes turn golden brown. If the mash is browning too quickly in the last 10 minutes, lightly cover with a piece of aluminum foil.
SHOP INGREDIENTS