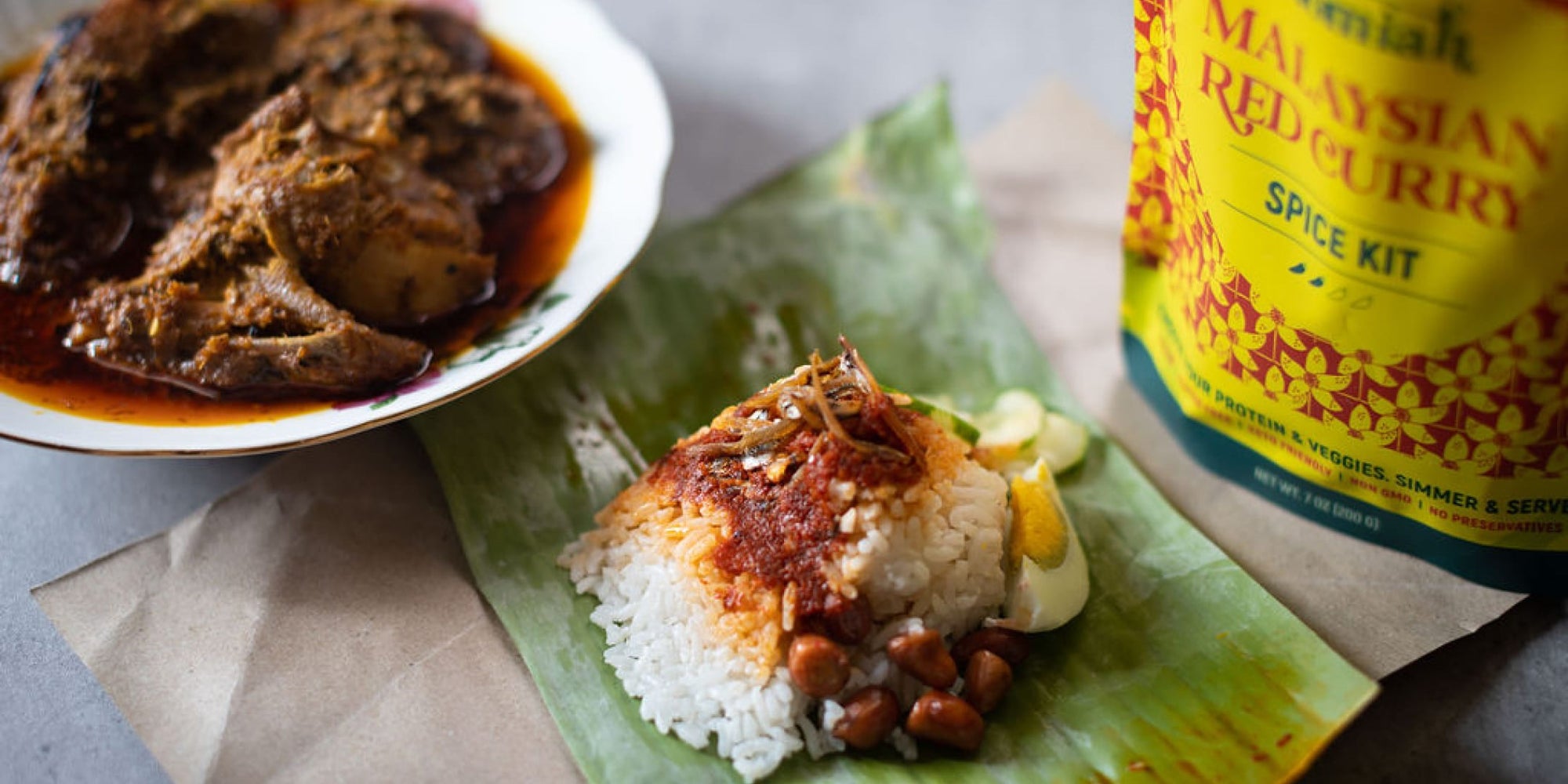 Nasi Lemak (Malaysia's National Dish)
Here's a primer on Malaysia's national dish, nasi lemak. If you haven't had the pleasure of digging into mouthwatering nasi lemak, you're missing out and we're here to change that! If you're planning to make Homiah's red curry or rendang, we recommend elevating your meal by turning it into nasi lemak for special occasions.
Nasi lemak translates into "fatty rice" in Malay. While nasi lemak originated in Malaysia, it is also popular in neighboring regions of Southeast Asia such as Singapore, Brunei and Southern Thailand where it is commonly eaten for breakfast as well as lunch. In fact, the meal is so ubiquitous that "nasi lemak bungkus" means nasi lemak that is wrapped ("bungkus") in banana leaf and paper, so that it could be taken from home to work -- the equivalent of lunch in a brown bag in the US.

In essence nasi lemak is a base of fragrant coconut rice skirted with a flurry of garnishes consisting of a hot sauce known locally as "sambal", anchovies, peanuts, sliced cucumbers and a boiled egg. The dish is commonly served with additional saucy sides of red chicken curry or beef rendang. 

In fact, once you've mastered the concept of what nasi lemak is, you'll realize nasi lemak can be made at home as none of the individual components are difficult. While nasi lemak has its roots as a humble meal, it is also a great for entertaining since all the components can be made in large quantities ahead of time and then assembled as guests arrive. If you are throwing a dinner party, consider procuring banana leaves sold frozen at your local Asian or Indian grocery and lining the plates with banana leaves for a stunning effect. 
Read on for our comprehensive how-to guide on making your own nasi lemak at home.
THE THREE COMPONENTS
Nasi lemak consists of three core components. You can make each of the components froms scratch or use ready made "starters" to simplify the process.
Coconut Rice - As with many Asian dishes, rice is the main base in nasi lemak. But not just any rice is used here. The rice of a nasi lemak must be made from an aromatic coconut milk base, enriching the rice and giving it a sweet, nutty perfume. Beyond making nasi lemak, this coconut rice is a common side for curries in Malaysia. Check out our recipe for coconut rice here.
Sambal-  Sambal is a spicy hot sauce popular in Southeast Asia and is also a key component of nasi lemak. It's made of chiles, alliums, and spices. If you wish to make your sambal from scratch you can refer to our sambal recipe here. (Homiah also has our unique crispy sambal.) While including sambal is traditional, if you have a low spice tolerance, it's OK to skip the sambal and instead stick to just the garnishes so long as you include a curry as one of the garnishes.
Garnishes - The classic garnishes include fried anchovies, peanuts, slices of cucumber, and a hard-boiled egg. This harkens to nasi lemak's roots as simple country fare when protein such as chicken and beef was a luxury reserved for yearly festivals. However, today, it is common to serve nasi lemak as a more substantial meal with a side of beef rendang or red chicken curry,
- Recipe by Deborah Lee
Nasi Lemak
INGREDIENTS
4 portions of cooked coconut rice (link to recipe)
1/4 cup sambal, homemade (link to recipe) or purchase Homiah's ready-made
1/2 cup (~30g) anchovies, preferably dried anchovies obtained from an Asian store
1/2 cup (~100g) raw peanuts
1 cup (480ml) canola, sunflower or vegetable oil, for frying
2 hard-boiled eggs, halved
1/2 cucumber, thinly sliced
Optional: 2-4 servings of red curry (link to recipe) or rendang (link to recipe)
Optional: Banana leaves, for serving/ presentation
METHOD
Ready the coconut rice, sambal, hard-boiled eggs and red curry or rendang (links to recipes are in the ingredients section).
For the anchovies and peanuts, start by pouring oil into a medium saucepan or wok until at least 2 inches deep, then heat it up to about 350°F (177°C). Add the anchovies into the oil, and let it deep-fry for 2-3 minutes, or until golden brown and crispy. Remove the anchovies and drain them on paper towels. Then in the same oil, add in the peanuts and fry for 3-5 minutes, until lightly browned, then drain them on paper towels as well.
To assemble, fill a small bowl with the coconut rice, flip it onto a plate and remove the bowl to form a rice mound. If using banana leaves for presentation, you can first line the plate with a banana leaf segment. If you want to be especially traditional, you can serve the rice directly on a double-layered rectangular segment of banana leaf lined with wax paper or newspaper underneath and skip having to wash plates!
Arrange the fried anchovies, peanuts, hard-boiled egg, and sliced cucumbers around the rice, alongside a spoonful of sambal on the side.
SHOP INGREDIENTS