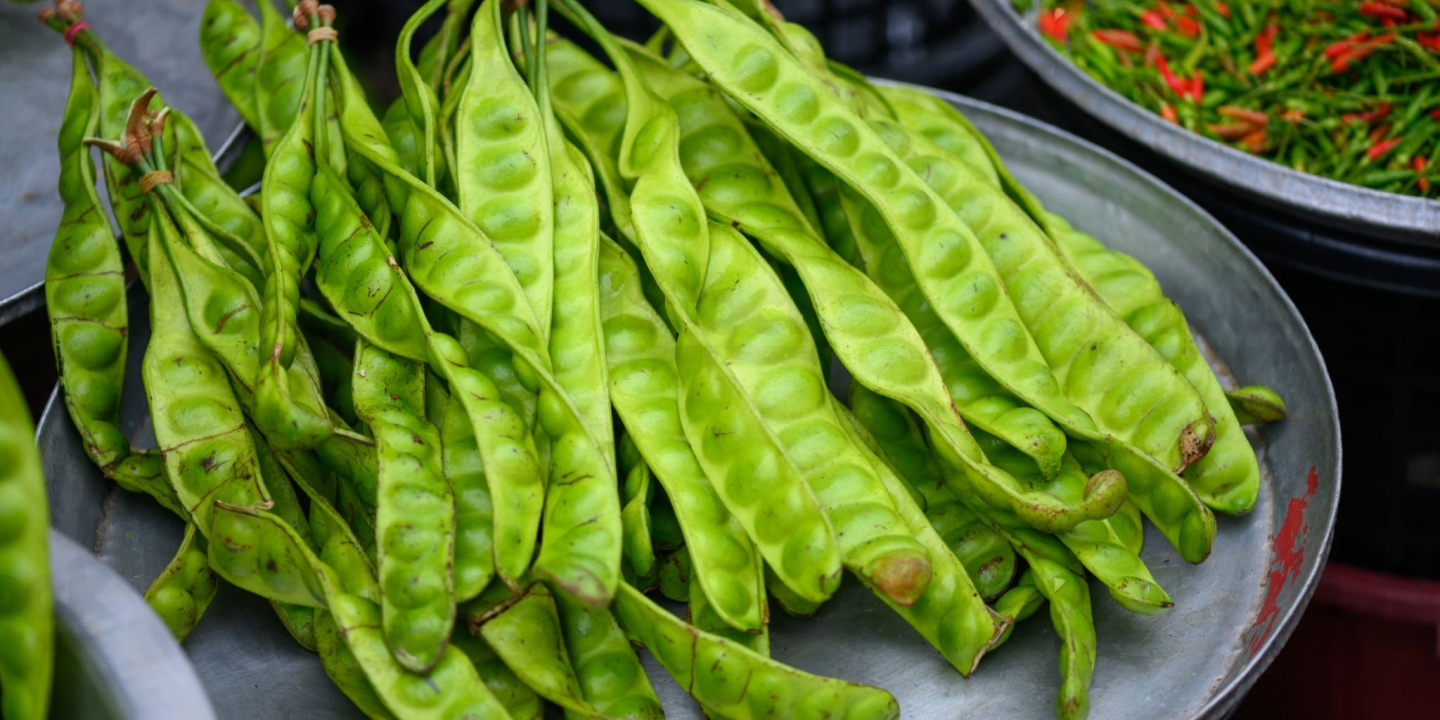 Sambal Petai Prawns
This is a classic Malaysian dish that was popularized by the Peranakan (Straits Chinese) communities in the country decades ago, and is a culturally iconic dish at any Peranakan or Nyonya restaurants all across the country. The dish takes petai — a type of legume with a distinct smell — and tempers it with a heady mix of other strongly flavored ingredients like sambal, prawns, and tamarind. The whole dish comes together in the fiery flames of a wok or pan, and its intense, punchy flavor has captivated many Malaysians, making this a go-to staple within many households in this part of the world. 
A note about petai: Petai is a Southeast Asian legume with a distinct, potent aroma. They grow in foot-long pods, which are sold in bunches in wet markets and roadside stalls. To cook them, the pods are cut open to extract the beans, which are then cooked into stews or stir-fries. Also called 'stink bean' or 'bitter bean', its nickname might be a put-off to some. But with a firm crunch and a nutty, funky taste, petai is well-loved in Malaysia, appearing in iconic dishes like sambal petai and four heavenly kings, a Chinese stir-fry vegetable dish.
While petai might be tricky to source for Stateside, they can be substituted with green peas or sugar snap peas in recipes that call for them. It won't be quite the same, so when you make your way over to Malaysia or Southeast Asia, we urge you to keep an eye out for this iconic vegetable. Don't knock it until you've tried it!
Sambal Petai Prawns
INGREDIENTS
4-5 pods of petai (stink bean), or alternatively green peas or sugar snap peas

6 shallots

6 dried Thai red chilies, deseeded and soaked in water to rehydrate

2 tbsp vegetable oil, or any other neutral oil

2 tbsp Homiah Sambal Chili Crunch (Original flavor)

1/4 tsp salt, plus more to taste

1 tbsp granulated sugar

8 ounces prawns or shrimps, peeled and deveined

1 tbsp tamarind mixed with 3 tbsp water, seeds removed (can be substituted with 2 tsp tamarind paste plus 3 tbsp water)
METHOD
Peel the petai, discarding the pods and outer skin.

Peel all the shallots, and halve 3 of the shallot. Cut the other 3 shallots into thin slices.

With a blender or a pestle and mortar, blend or pound the shallot halves and the chilies into a fine paste. 

Pour the vegetable oil into a wok or large frying pan, and set it over medium heat. Add the shallot and chili paste, and stir-fry for 5 minutes, until about half of the moisture has evaporated and the paste is fragrant. 

Add the remaining sliced shallots into the wok, together with the Homiah Sambal Chili Crunch, salt, and granulated sugar. Stir-fry for 2 minutes. Then, add in the petai and prawns, then stir-fry for 3 more minutes. Finally, add in the tamarind with its soaking water, and stir-fry for 2 more minutes.

When done, transfer everything onto a plate to serve. The dish is best eaten with rice, or as part of a Southeast Asian dinner spread.
SHOP INGREDIENTS