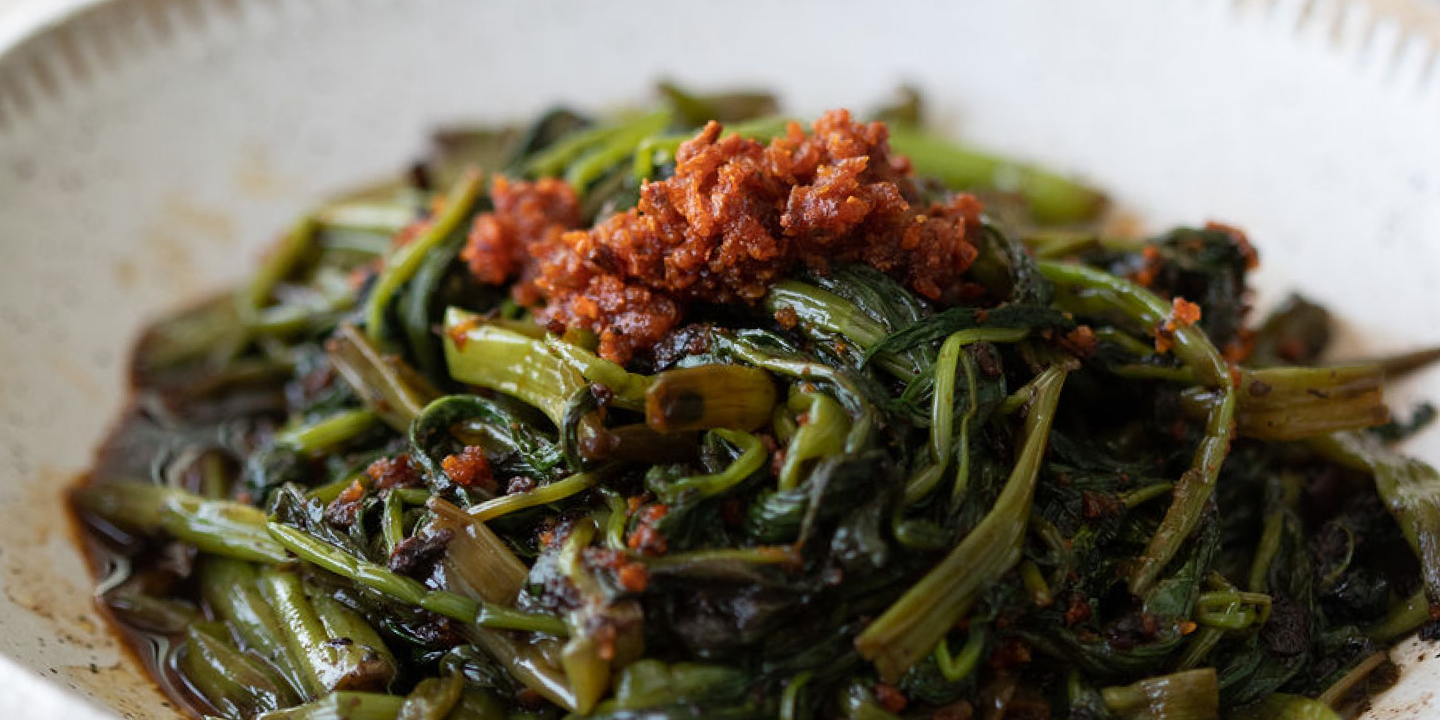 Kangkung Belacan (Stir Fried Water Spinach)
Growing up, stir fries are a big thing in my family's home-cooked meals. One of my favorite leafy green dishes is stir fried kangkung ('kangkung' is a Malay word for water spinach). To Malaysians, this dish is a classic and commonly ordered in food stalls or restaurants across town, especially at Chinese 'dai chows' (meaning 'big fry' in Cantonese) that serves up a variety of other stir fried dishes. 

In the dish, water spinach is cooked with sambal belacan, a Malaysian condiment made from dry red chillies, belacan (fermented dried shrimp paste) and lime juice. A wok is most ideal for stir frying kangkung, as always with most stir fries. The key thing to watch out here is when you toss the vegetable into the wok, you should hear a nice crackling sound and steam rising out. I give it a good 1-2 minutes max in the wok, then it's done. 

If you cook it the right way, it's a sure fire hit, and it goes very well with just plain rice.Ideally, the final kangkung dish should not be soggy or watery - it should still retain some "wok hei" (breath of the wok synonymous with Chinese stir fries), a crunchy texture and a perfect dark green color. 

For my recipe below, I used Homiah Foods' Malaysian Crispy Sambal which saves me the hassle of pounding and making my own sambal paste to go with this dish. It's the perfect accompaniment because it has just the right kick in terms of flavor and texture needed - not overly spicy once it's cooked while also lending a distinct savory, slightly salty sambal flavor to the gravy. 
- Writeup and recipe by Deborah Lee
Kangkung Belacan (Stir Fried Water Spinach)
INGREDIENTS
1 tbsp vegetable oil 
2 tbsp Homiah Malaysian Crispy Sambal, divided
1 200g fresh kangkung (water spinach), washed
1 4 cloves garlic, thinly sliced
1 1 tsp sesame oil
METHOD
Chop or divide the kangkung into 3 inch segments (including leaves and stems). Discard the tough bottom ends, then rinse in clear water. Drain well.
Heat the vegetable oil in a large wok or deep pan over medium heat. Add in the garlic, and sauté it for 2-3 minutes until slightly crispy and aromatic. Then, add 1 tbsp of Homiah Malaysian Crispy Sambal and stir well to combine for 10-15 seconds. Turn up the heat to high and add the kangkung. Fry the kangkung for 1 minute until it starts to wilt, stirring and tossing it vigorously in the wok, then pour in the sesame oil. Stir quickly for another minute until the vegetables are slightly tender. Turn off the heat.
Transfer the kangkung to a plate and garnish with the remaining tablespoon of Homiah Malaysian Crispy Sambal. The dish is best served hot with steamed rice and other side dishes.
SHOP INGREDIENTS