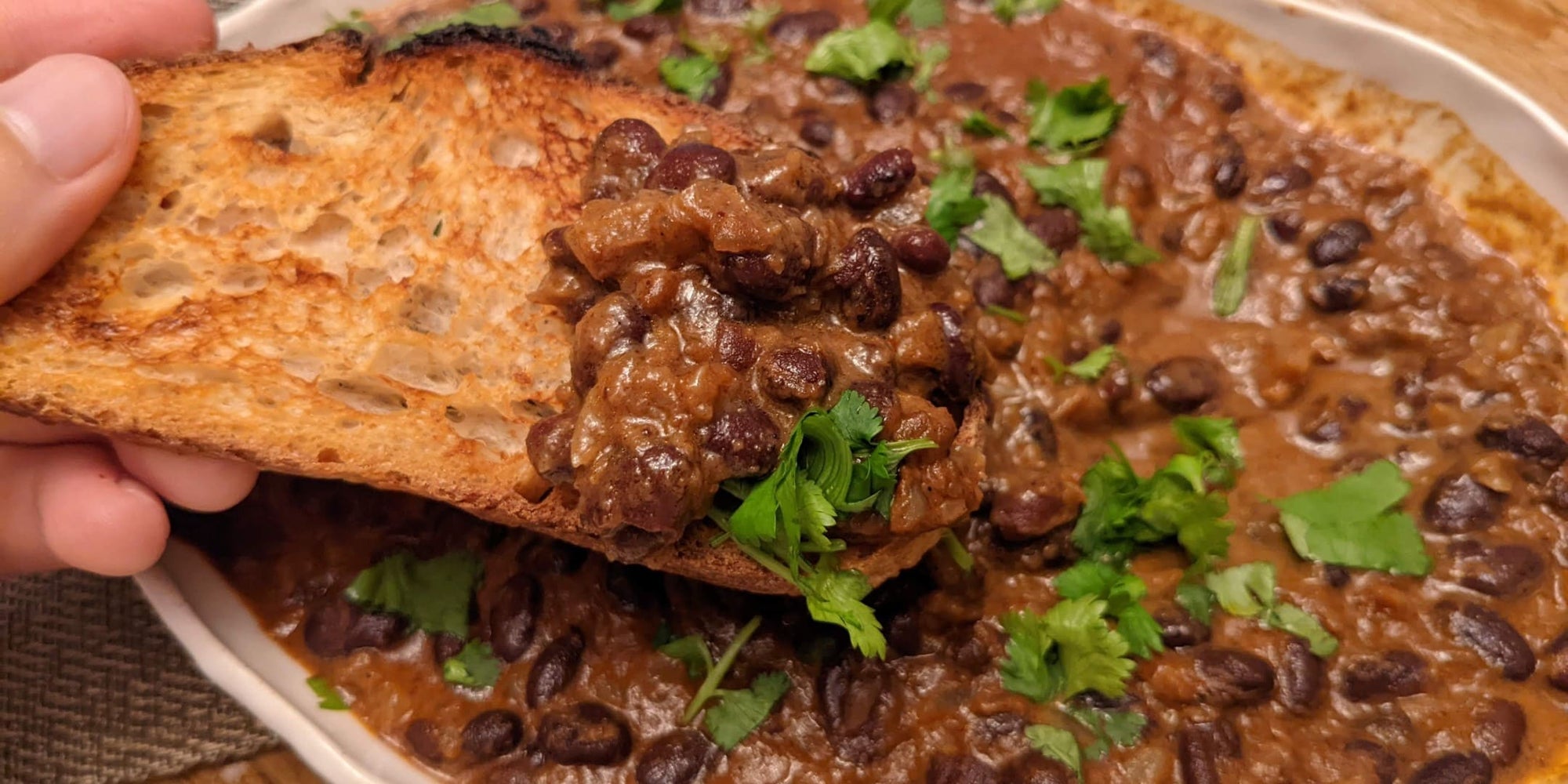 Bean Curry
Beans might not feature much in Southeast Asian cooking, but when we cooked these beans in a Malaysian red curry for the first time, it felt like a cosy warm tropical blanket of a hug. There's the fragrant cumin and spices from the curry, the nuttiness from the beans, the richness from the coconut milk, which all blended so well into a perfect saucy dish!
All it takes is just some good beans cooked until they're tender, fold it through a savory Malaysian curry enriched with coconut milk and some bean broth. And you'll get one of the most heartwarming dishes to have with rice, bread, or even on tacos!
Singaporean Laksa
SERVES TIME
2 - 3
~3 hours (stovetop) or 1 hour (instant pot) | Prep Time: 15 mins
INGREDIENTS
For the beans:
1 lb beans - use beans suitable for stewing such as black beans, kidney beans or pinto beans (we used Primary Beans's Ayocote Morado)
2 cloves garlic, smashed
2 bay leaves
1 tbsp olive oil
1/4 tsp salt
For the sauce:
1 Homiah Malaysian Red Curry Kit or Indonesian Rendang Kit (there are 2 kits per pouch)
1 white onion, finely diced
3 garlic cloves, minced
3/4 cup (180ml) coconut milk
Juice of 1/2 a calamansi lime, or key lime
1 stalk cilantro, leaves picked
METHOD
Combine the beans, garlic, bay leaves, olive oil, and salt in a large pot. Cover with water and cook for 2-3 hours on the stovetop, or 45 minutes plus 10 minutes of natural release in a pressure cooker. (More information on the Primary Beans cooking guide.) When done, reserve 1/2 a cup of the bean broth, drain the beans out of the pot and rinse under cold water.
Pour the Homiah Malaysian Red Curry Kit into a large sauté pan and place over medium heat. Add the diced onion to the pan and cook for 5 minutes until translucent. Add the minced garlic and cook for 2-3 minutes. Finally, add in the beans, coconut milk, and 1/4 cup of the bean broth. Bring this to a boil, then simmer for 10 minutes, until thick and saucy. (If the curry is looking dry and in danger of burning on the bottom, add a few more tablespoons of the reserved bean broth.)
When done, squeeze the lime juice into the curry, mix well, then season to taste with salt. Transfer the curry into a bowl, garnish with a blizzard of cilantro, and serve hot. The curry is best with bread, roti, or rice, but is also great on its own.
SHOP INGREDIENTS